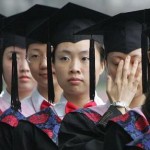 As applications to the top business schools in the US continue to increase from China, schools are forced to make difficult admissions decisions amidst this highly competitive applicant pool.  Here are four tips for Chinese applicants to ensure excellence in the application process and differentiate yourselves from others.
Brand yourself
Many applicants from China are academically qualified for the top schools and offer high GPAs, GMAT, and TOEFL scores.  The key for the Chinese applicant is to differentiate yourself by all of the unique experiences you bring to the table: professional, extracurricular, and personal. Share your passions, hobbies and activities.  Let them see your special skills and strengths.  Show off your personality, creativity and distinguishing attributes.  Find your personal brand, know your differentiation from others, and let it shine through in your essays.
Showcase your experience
Because test scores are so elevated among Chinese applicants, the admissions committees also will be eager to learn the details of your work experiences and how you uniquely excelled in those roles.  For both your resume and your essays, take great care to think through each position you've held (professional or otherwise!) and highlight your ownable accomplishments, projects, honors, and initiatives.
Do your homework
Visiting US campuses from China can be cost prohibitive, and the admissions committees understand this.  Still, don't miss the opportunity to find other ways to gain insight into the program and demonstrate your passion for the school, above and beyond what's on the website.
Talk with alumni of the program. If you don't know any yourself, feel free to contact the admissions office and ask if they have any alumni ambassadors in your area.  Then, learn as much as possible about that person's experiences, both as a student and an alum.  You'll gain invaluable information that will strengthen your application, and you'll also have the bonus of being able to reference the conversation in your applications.
Attend admissions fairs in your area.  Some schools do international recruiting of their own, and others participate in fairs like the Access MBA Tour  or the QS MBA Tour, both of which come to China this fall.  For additional advice on how to make most of these tours, you may find our last blog post helpful.
Some MBA programs like Georgetown have "virtual visits" that you can register for if you're unable to make it to campus. These webinars are also a great way to get a feel for the campus, student life, and admissions process.
Write everything yourself:
Easy as it is to hire a consultant to write your essays or create a glorified resume for you, do refrain from those temptations.
First, US admissions committees now use highly-sophisticated software to track for plagiarism, which would result in an immediate rejection of your application. Last year, UCLA Anderson famously rejected 52 applicants due to plagiarism.   Remember, anyone writing essays for one applicant is undoubtedly writing them for others.
Second, overly-polished grammar coming from a Chinese national will also set off red flags—particularly when your interview confirms that you have a less adept command of the English language. Your natural accent and speech patterns are not only welcomed, they are encouraged in your applications. The goal is to present a true reflection of you.
Most importantly, ethics is the cornerstone of every top US MBA program.  Business schools are looking for future business leaders: ones who will impact the world for good, not the next Bernie Madoff.  Any hint of an honor code violation in a student's application, even if discovered the day before graduation, will result in that student's immediate dismissal.
Find your unique selling points, make the extra effort, and live the principles of the MBA programs you admire.  The admissions process will reward you for it.
[Hillary Schubach is an MBA admissions consultant with 14 years of experience and an MBA from Harvard Business School.  For advice on applying to the top US business schools from China, or other admissions advice, please contact us at info@shineadmissions.com]
© Hillary Schubach  June 20, 2012  3:54am MT