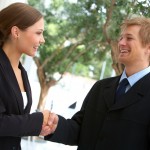 Does networking with the staff, students or alumni of your target business schools help you in the admissions process?   The answer is, it depends why you're networking.
If you're interested in meeting school affiliates to help sway the admissions committee, you're likely wasting your time.  Derrick Bolton, assistant dean and director of Stanford GSB Admissions, has indicated that those types of unofficial recommendations really hold no weight.  Given the many thousands of alumni they have, if every one of them reached out to the admissions office to "put in a good word" for a candidate… Let's just say we wouldn't encourage the practice.
So how can networking with members of the school community benefit you?  By giving you insight and information that you can use in your application.  What better way to understand the culture of an MBA program than to talk with its current students.  If you're interested in a professional club on campus, its president would be a great resource to help you understand the type of programming the club offers and the ways you could get involved.  Talking with local alumni can give you a great sense of a school's community, engagement level, and continuing education and networking opportunities.  Setting up a phone meeting with a faculty member to discuss a topic of mutual interest can shed light into coursework, research, or relevant campus initiatives.
Then, when writing your essays about why that school is a great fit for you, you'll have conversations to reference.  You'll sound buttoned up and well-informed, beyond what's written on the website.  Furthermore, the extra steps you've taken demonstrate your passion for the program.  And THAT can actually help you in the admissions process.
So, network for the right reasons, and you'll derive great benefit: in your essays, in your interviews, even in your conversations with school representatives at MBA fairs.  Your candidacy will be all the stronger for it.
[For personalized advice on MBA admissions consulting, please contact us at info@shineadmissions.com]
© Hillary Schubach, September 26, 2012  10:22am MT