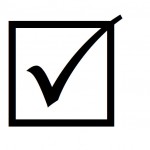 Congratulations!  If you're one of the motivated few to get your business school applications in early, you may be wondering what to do with yourself next.  Here are a few suggestions:
Apply to 2nd round schools
You've already got great momentum from all of your hard work in the 1st round; why not continue moving forward?  Worst case scenario, you develop an additional set of applications and end up with the fantastic news that you've "wasted your time" because you were accepted to your 1st round schools.  Best case scenario, you use these next few months wisely to write outstanding applications and create options for yourself–rather than scrambling at the last minute, if 1st round decisions don't go your way.
Prepare for interviews
You may not know yet whether you have been invited to interview at your 1st round schools, but once you are, those interview dates come up quickly.  A great use of your time would be to begin preparing your responses to the long list of commonly-asked questions—which can be found through independent research or by working with an MBA admissions consultant. Mock interviews are also great confidence-builders, whether conducted with a friend, on video, or in front of the mirror.  Practice your responses so they  flow naturally and concisely.  And look out for distracting hand gestures or facial expressions and begin practicing ways to eliminate them so you are your best self on interview day.
Excel in your work
Continue building an arsenal of success stories in your professional (and personal) life.  Step up for that new project.  Propose that innovative idea.  Take a leadership role on your team.  Your employer will certainly appreciate it, and most of all, you'll gain exciting new fodder for your potential interviews.  (Or, if need be, for waitlist letters.)  Admissions committees like to see a growing track record of accomplishments—and little is more impressive than a candidate who continues to take initiative, even after the application deadlines have passed.  If all goes well, you'll have ample opportunity to discuss those new stories with the admissions committee.  And if not, you'll have made a wise investment in Plan B, and will impress a lifetime of future employers with your accomplishments.
[For personalized advice on interview prep and general MBA admissions consulting, please contact us at info@shineadmissions.com]
© Hillary Schubach, October 24, 2012  10:13am MT