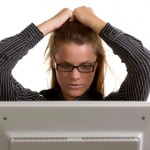 Did you finally finish writing your business school essays–excited that you were at the "end" of your MBA application–only to discover that Part One was actually chock full of enough short-answer questions and mini-essays to put you into a deep depression.
Fortunately, you discovered this before the day your application was due.  And fortunately you had enough guidance to do yourself justice on this portion of the application, rather than detract from the value of the beautiful set of essays you'd just poured your heart into creating for Part Two.
Here are a few tips to make Part One of your application as strong as possible:
Characters vs. Words
First the basics: follow the instructions.  We've seen plenty of people share with us their 250 word answers to a question calling for 250 characters.  Read the question carefully.  Determine whether "characters" includes or excludes spaces.  Test your theory by filling the data form with Xs, cutting and pasting it onto a MS Word document, and then running your character counter.
Resume Redundancy
If you've already done an outstanding job with your resume, there's no reason that you can't repeat the same language in the employment short answer section that asks about your roles, responsibilities and accomplishments.  If the short answer section allows you additional room to expand upon it, even better.  But there's no need to recreate the wheel entirely.  (For tips on writing an MBA-caliber resume, see our recent blog post.)
Writing Style
If a question asks for a 250 character response, the admissions committee isn't expecting lengthy prose, an introduction/conclusion, or even full sentences necessarily. (Resume-style writing can be used very effectively in these sections.)  And certainly don't use up your precious space by repeating the question.  Instead, jump right into your response, convey the information succinctly, and when appropriate, close with a few words on why this was meaningful for you (e.g. what you learned, the impact it had).
Added Value
While there's nothing wrong with repeating the examples you've already written about in your essays, consider the short answer section an opportunity to add unique value to your application.  If you are asked to write a few words describing an extracurricular activity/hobby that is particularly meaningful to you, and you've already dedicated an entire full essay to your first triathlon experience, then perhaps you can write about your rare wine collection or your passion for acoustic guitar.  Let the admissions committee see all of the interesting and different sides of you, throughout the application.
Time
Most importantly, leave sufficient time to complete the Part One section of your application.  Read through it first (i.e., before writing your essays) in its entirety.  Take stock of the official test reports, transcripts, recommendations and documents they're asking you to upload.  Then, leave at least two days to tackle this section.  Make sure your dates are correct and your spelling and punctuation are impeccable.  Employ a couple of fresh sets of eyeballs to give it a final proofread.  And make sure it's as positive a reflection of you as the essays you've worked so hard to polish in Part Two.
[For personalized advice on MBA admissions consulting, please contact us at info@shineadmissions.com]
© Hillary Schubach, October 3, 2012  11:18am MT