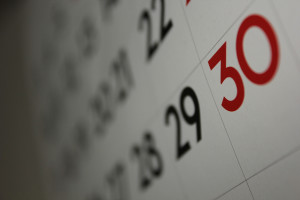 Are you ready to apply to business school this year? Maybe you've been prepping for the GMAT or staring at your resume, unsure of what to say. Think you can't do much right now? Think again! It's time to start thinking ahead to when you will be applying and how you can make the most of these early months. You'll be a stronger candidate that's not only ahead of the curve, but also (hopefully) a little less stressed about the process!
5-6 Months Out
Use this time to assess and evaluate. Do you still need to take the GMAT or GRE? Now is the perfect time, considering how time-consuming preparation will be. Are you dissatisfied with your GMAT score? Sign up for new prep classes. Or if you feel like your undergraduate coursework wasn't top notch, then take–and ace!–a local or online course in accounting, finance or statistics.
At this point, you should definitely be scouring school websites to identify the best MBA programs for you. Ask yourself the tough questions: beyond ranking and reputation, does the school offer what you truly need? Does it offer coursework that will help you achieve your career goals? What about extracurricular activities so you can meet people aligned with your interests? Are there career services teams and alumni that can help you get recruited and hired for your dream job? Also, pay attention for the best fit with the school's culture, values, geography, class size, and teaching methods.
When it comes to your resume, you can never start too early. Add your previous positions, as those won't change, and leave room for updates to your current position. Use this time to think about your academic and professional accomplishments, responsibilities, and management roles. Forge a connection with your reader by adding your personal interests and activities.
Do you think you've gained enough leadership experience? If not, find ways to take on more responsibility at your company or in your extracurricular activities. Talk to your managers about strengthening your weaker areas through training courses or stretch assignments. If you've got some downtime, see if you can find a deal and travel internationally to expand your world view. Even better, explore ways for you to gain some travel experience through work.
As much as business schools want to see impressive professional credentials, they also want to see your activities and hobbies beyond work. Join the social committee at the art museum if that's where your passion lies. Make time for volunteering at an animal shelter, or breaking your own personal record at your next marathon. Just be true to yourself, embrace your interests, and let them envision you as an active member of the incoming class.
Given that it's going to take some time, think now about your preferred recommenders to write your recommendation. You ideally want someone you've reported to (formally or informally), and who thinks extremely highly of you. Look at previous applications so you know what kind of questions are asked, and let them know what the process will entail. Going to them now gives them enough time to mentally prepare and budget the time in their schedules.
3-4 Months Out
You've done the preliminary research. Now it's time to take stock of your favorite MBA programs by following their blogs, social media, and newsletters. Find out when school starts up and see if you can schedule a time to visit the campus. Additionally, attend MBA fairs and school receptions to gain additional insight about the programs.
At this time, make sure you've reached out to your recommenders and that they have all the necessary info they need to help you, including deadlines!
You should also start the essay-writing process. If you've just taken the GMAT or GRE, remember to leave yourself time to recover from the exam so you can tackle the essays refreshed and ready to write. Begin with lots of brainstorming, and then mapping out your content ideas across the entire application, rather than diving into each essay in a vacuum. Once you feel confident in your topics and how they fit together, you'll have an easier time putting pen to paper and writing those first drafts.
1-2 Months Out
Now that class is in session, take time to visit the business schools that interest you most. While not required, this experience will give you unmatched insight into the curriculum, the culture, the campus, and what to expect from the program. If travel isn't possible, you can still learn a great deal by setting up phone meetings with current students or alumni.
This would also be a good time to reconnect with your recommenders and make sure they're on track with your deadlines. Follow up every week or two as appropriate. It's your project to manage. The last thing you'll want is to be nervous about them missing the deadline.
Finally, keep whipping your essays into shape. It'll take a lot of work to get them to the quality level needed to be competitive, but it'll be well worth your time. Once you're done, be sure to get two fresh sets of eyes on them for proofreading, double check the exact deadline timing (is it 5pm or 11:59pm, and in which time zone?), and submit them well in advance of those final minutes.
[For help with planning your MBA applications, or general MBA admissions advice, please contact info@shineadmissions.com]
© Hillary Schubach, July 8, 2014, 10:24am MT