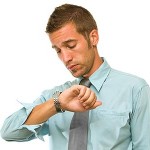 For most candidates, the answer is no.  However, under certain circumstances, it makes perfect sense to submit a 3rd round application.  Here are some ways to gauge whether you should apply this late in the game, or whether you'd be better off waiting until the 1st round next fall.
First, the pros of submitting an application in round 3:
If accepted, you get to attend business school this coming fall.
Now the cons:
Most of the spots in the class have been given away by this point.  For this reason alone, you'll have a much tougher time getting in than you would otherwise.
If you are not accepted, and you decide to apply again in the fall, now you're not just a typical candidate, you're a reapplicant.  This puts the onus on you to improve your candidacy in a significant way over the next six months.  If you were rejected once, submitting the same set of qualifications/stories will not yield a different result.
People are accepted though in round 3, right?  Yes they are. The candidates with the best shots at 3rd round admission include:
Those with a compelling story for their late timing.  Admissions committees won't be impressed if you were just slow getting your act together.  They will, however, be intrigued by your story about how your startup took an interesting turn, your peace corps assignment came to an early close, you were pursuing additional professional development opportunities, you've just returned home from military deployment, or you had extenuating personal circumstances.
Those who add unique value to round out the class.  Admissions committees do leave 3rd round spots available for "interesting candidates" who can add to the diversity of the class.  If you have something truly differentiated to offer (culture, career, academics, interests, extracurriculars, community, leadership), you'll definitely catch their attention.
Those who have been doing their homework all along: researching business schools, having conversations with students/alumni/faculty, visiting campuses and sitting in on classes, and attending information sessions.  You'll need to show them how you've determined that an MBA, and specifically this program, is your ideal next step – and not a last minute scramble because you've lost your job or were rejected from your first choice schools.
If the above applies to you, and you're comfortable with the risks, then submitting a 3rd round application may be the right decision for you.  If so, you'll be best served in the application process by ensuring that – in addition to the typical components of a strong application – yours is particularly emphatic about:
Clear rationale for your late application timing.
Explanation of why it's so important that you attend business school this fall, rather than the following year.  (Is it critical for your goals? Will waiting be detrimental to your career?)
Your unique differentiation.
The steps you've taken to conclude that this MBA program is right for you.
[For more information about 3rd round application strategy or general MBA admissions consulting, please contact: info@shineadmissions.com]
© Hillary Schubach, January 30, 2013, 11:13am MT